10 Worst Nannies of All-Time
August 21, 2011

| in Background Check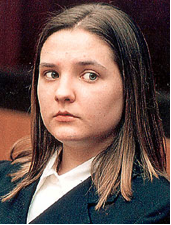 We love nannies. They serve an important role in society, raising children, molding young minds, and keeping families functioning all across the globe. Unfortunately, however, there are some notable exceptions. See how many of these nannies gone bad you can recall. Here are the ten worst nanny arrests of all time:
Feb. 9, 1997:  Louise Woodward, a 19-year old English Au Pair, was charged with the murder of 8-month old Matthew Eappen, for whom she was hired to care. Amid stories that she had been at odds with Matthew's parents over some house rules, Woodward was accused of having violently shaken and fatally injured him in an apparent attempt to stop his crying. She was eventually found guilty of the lesser charge of involuntary manslaughter, sentenced to time already served, and deported.
May 7, 2009: Jonathan Then, dubbed the Manhattan Manny by the press, was arrested for molesting three Manhattan boys in his care, ranging in age from 8 to 10, just one month after having been arrested and subsequently released on bail for a similar charge. Also accused of collecting child pornography, Then advertised his services as a nanny by describing himself as "boy-savvy". Indeed.
July 29, 2008: Annette Martinez, 25, was charged with criminal sexual penetration of a minor, the 14-year old boy in her care. Claiming she was in love with him, Martinez confessed to having had sex with the boy on at least 40 separate occasions.
Oct. 26, 2003: Jimena Barreto, a nanny, drove her vehicle, while intoxicated, across two lanes of traffic, slamming into a 10-year old boy and his 7-year old sister, killing them both. She then fled the scene, remaining at large for two days before being arrested.
Aug. 9, 2008: Brazilian nanny Ana Amelia Santos Cuoco was arrested after her newborn baby was found dead, wrapped in a towel and stuffed inside a plastic bag in the closet of her room. She claimed the baby dropped out of her and to the floor unexpectedly when she stood up, and died from the fall. She was charged with concealing the death of a child and abuse of a corpse.
June 9, 2008: From our Arrests-That-Almost-Happened-For-Crimes-That-Never-Did Files, Zenaida Fernandez-Gonzalez was questioned in regard to the disappearance of Caylee Anthony. Caylee's mother, Cayce Anthony had claimed during her murder trial that "Zanny the Nanny" Fernandez-Gonzalez had abducted the child. It was later determined that no such nanny existed. This real-life Zenaida Fernandez-Gonzalez, however,  filed a defamation lawsuit against Anthony.
July 26, 2001 Edinburgh, Scotland: Tina McLeod, while caring for 12-month old Alexander Graham, is accused of violently shaking the boy and hitting his head, killing him. She claims that the fatal injury was the result of a fall. The jury ultimately renders a verdict of "not proven" after testimony from a neuropathologist raises doubt that the child could have been shaken violently enough to cause his death.
Mar. 17, 2010: In a case where the main evidence was a nanny cam video, Jeannine Campbell was arrested for battery on a child. In the video, Campbell can be seen slapping the 11-month old boy hard enough in the head to knock him over, yanking him off the floor by his arm, then slamming him to the floor.
June 17, 2009: Douglas J. Shepherd , a 23-year old man who had gotten hired via an online nanny service, was charged with sexual assault on a 10-year old boy. He was arrested after confiding to doctors of having suicidal thoughts as a result of the assaults. Naturally, he then pleaded not guilty. Shepherd was also charged with child pornography after police found supporting evidence of it on his computer. Police said he landed jobs working with children in at least 6 different states before being apprehended.
June 23, 1996: This one comes from our Nanny Case Cold Files. Swedish au pair Karina Holmer disappeared after leaving a Boston nightclub. The 20-year old's upper body was later found with rope marks around her neck, in a dumpster by a homeless person. Although over 300 witnesses and possible suspects were questioned in the case, it has never been solved, so no arrests were ever made.
← 10 Ways for Nannies to Research Families | 10 Bad Reasons for Hiring a Less Experienced Nanny →
Run A Background Check Now
Fast, reliable & secure background checks are just a few clicks away.
Choose a plan & click to start your check at eNannySource.com