10 Movies Where Characters Failed Background Checks
May 28, 2012

| in Background Check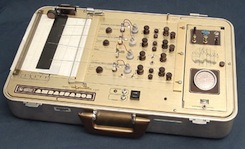 Though modern Hollywood likes to make a background check out to be as simple as a few keystrokes when it's anything but, there's no denying that there are several hit films whose characters are the subjects of a failed background check. While the methods for finding the information might be less than realistic in some cases, here are ten films in which a character finds that information they'd rather leave buried comes to the surface with a bit of digging.
The Girl With the Dragon Tattoo – Whether you opt for the subtitled Swedish original or the slick Mara Rooney-helmed Hollywood version, these films based on the blockbuster Steig Larsson novels center around character Lisbeth Salander's background check on magazine owner Mikael Blomkvist.
The Devil's Own – This 1997 thriller starring Brad Pitt and Harrison Ford features secret identities, IRA ties and an FBI discovery of Rory Devaney's true identity: IRA gunman and "ruthless terrorist."
The Music Man – The charming drifter played by Robert Preston in 1962's "The Music Man" finds himself on the receiving end of an Iowa town's ire when his past comes back to haunt him after an anvil salesman exposes his plans.
Enemy of the State – The 1998 Will Smith movie, "Enemy of the State," centers around surveillance and data collection of citizens by the government. False information, blackmail and corrupt politicians all come together in this thriller.
Changing Lanes – Samuel L. Jackson's character Doyle Gipson finds himself embroiled in a feud with a New York City attorney, played by Ben Affleck, in this 2002 film.
The Bourne Supremacy – The last installment of the Bourne trilogy, based on Robert Ludlum's bestselling novels, finally turns up the answers to Jason Bourne's past and ends his search for his true identity.
The Last Boy Scout – Joe Hallenbeck, a private investigator played by superstar Bruce Willis in this 1991 film, uncovers a far-reaching plot of bribery and blackmail with the aid of a former football star.
Secret Window – In this thriller based on a Stephen King novella, an author being terrorized by a reader claiming that his manuscript was stolen hires a private investigator to find out more about the mysterious man. The background check and investigation of the figure turns up shocking results, indeed.
8MM – When private investigator Tom Welles, played by Nicolas Cage, is hired to track down a young girl seemingly murdered in a film left behind in a tycoon's safe upon his death, the long and treacherous journey leads to shocking revelations.
A View to a Kill – Looking into a horse-racing scam leads the legendary 007 to an industrial tycoon with a master plan for domination in this 1985 installment of the classic spy film franchise.
The value of a thorough background investigation is depicted clearly in these ten films, proving that there's no such thing as being too cautious.
← 10 Misconceptions People Have About Lie Detector Tests | What Parents Should Consider When a Nanny Reference Call Goes Bad →
Run A Background Check Now
Fast, reliable & secure background checks are just a few clicks away.
Choose a plan & click to start your check at eNannySource.com