How to Reject a Nanny Applicant Gracefully
September 18, 2013

| in Background Check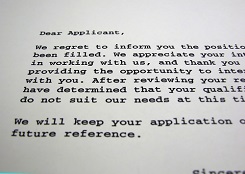 Unless you live in a city where there are far more families in need of quality in-home childcare providers than there are available nannies, you're likely to find yourself bombarded with applicants the moment you post a job listing. After you've narrowed that field of applicants down to your favorites, you'll probably be faced with the prospect of interviewing several candidates. When an applicant is interviewed for a choice position, she's likely to spend the next few days waiting on tenterhooks to find out whether or not she's been chosen. The courteous thing to do is to let rejected applicants know that you'll be going with someone else so that they can continue their job search. Doing so with grace and in a gentle manner, however, isn't always easy.
Develop Your Own Form Letter
Whether it's an email template or a form letter you'll be sending through the postal service, written correspondence can be an ideal avenue for rejecting a hopeful applicant. A well-written letter that's been penned with careful thought and consideration praises the applicant's abilities while letting them know that there's no room to negotiate regarding your choice. When a phone call has the potential to be too awkward or leave room for debate about your choice, it's often easier to go with a pleasant, yet impersonal, form letter.
Keep Feedback to a Minimum
When you're faced with an inexperienced candidate or one that simply didn't interview well, it's normal to feel tempted to provide them with a few pointers. More often than not, however, an attorney will advise you against providing detailed feedback, lest the reasons you state be construed as discriminatory hiring practices. Providing feedback over the phone or even during an email exchange also provides a miffed applicant with the opportunity to argue with your observations or refute your claims. To keep things professional, calm and to mitigate the risk of legal difficulties, it's wise to forgo telling an applicant why you've decided not to extend a job offer.
Keep it Impersonal
Not only is it possible to be polite while remaining a bit aloof and maintaining a bit of distance when offering a nanny applicant an official rejection, it's advised. You can take the time out of your busy schedule to point out that she said or did something you were truly offended by during the interview, but it will only lead to a debate and is highly likely to cause a major altercation. Be nice, but keep your correspondence matter-of-fact and impersonal, free from anything that could be construed as a personal attack.
Be Honest
Telling an applicant that you've decided to go with another candidate when the position hasn't yet been filled is not only disingenuous, it's also a falsehood that's very easy to discover when you post a new listing or keep your existing one posted. Don't tell a hopeful nanny that you've chosen someone else, but keep your honesty vague. There's no reason to lambaste her or be deliberately cruel, but there's also no need to leave her with well-intended but easily discovered lies.
Don't Hold Up a Job Search
When you have several promising applicants on the line, it's easy to make them all feel as if the position is in the proverbial bag until you make your decision. While this tactic will discourage them from seeking other opportunities, effectively minimizing your chances of losing a great nanny to another family, it also damages her chances of finding the employment she's obviously seeking. Don't provide false promises or imply that the job will be awarded only to later rescind that implied offer. Be direct from the beginning, even if you haven't settled on another applicant. Remember, you don't have to have a better option in place to reject an applicant. Every family's needs are different, and not every nanny will fit the bill.
← How to Monitor The Quality of Care Your Children Receive |
Run A Background Check Now
Fast, reliable & secure background checks are just a few clicks away.
Choose a plan & click to start your check at eNannySource.com