10 Ways to Get Someone's Social Security Number (and how to protect yours)
March 29, 2012

| in Background Check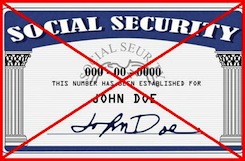 Identity theft is big business these days, both for thieves as well as for security companies attempting to stay one step ahead of the bad guys. So it's an expensive proposition either way for folks caught in between who need to safeguard their personal data. You can stay ahead of the game by familiarizing yourself with these 10 ways that someone can get your social security number:
Lost or stolen wallet. The less personal information you need to carry with you, the less that can be obtained by someone who gets hold of your wallet. Don't carry your SSN card with you. Keep it locked away except for instances when it's required for ID purposes.
Driver License – Since 2005, the Intelligence Reform and Terrorism Prevention Act prohibits states from displaying your SSN on drivers' licenses, state ID cards, or motor-vehicle registrations. However, older cards still in use may still have the SSN on them, in which case the holder is advised to request a new one which doesn't display their social.
Trash Cans – Thieves can get a lot of personal info just by rifling through wastebaskets. Applications and forms that unwary victims toss in the trash wind up in the wrong hands every day, at banks, businesses, and from your home trash too. Shred or burn papers rather than just tossing them out.
Unsecured Websites – Data can be obtained from websites that are not secure; non-encrypted transmissions get intercepted, with customer databases right at the thieves' fingertips. When conducting business online, make sure the website has a valid certificate, and look for the 'https:' URL header, indicating that it is a secure site.
Paper Impressions – In public places, such as doctor's offices, where forms are routinely filled out, it's possible to obtain personal info from pages that were underneath when those forms are filled out. Never fill out a form with sensitive data on top of a pad or stack of forms. A simple pencil trace of the page beneath can reveal a lot.
Phishing – One of the more sophisticated approaches is to solicit personal info directly from unsuspecting victims using deceptive tactics, such as emails purporting to be sent from trusted businesses. They will ask you to log in and provide info, using a bogus link, to a web page designed to mimic the genuine website.
Social Engineering – A more direct method of identity theft, this technique prompts the victim to divulge information voluntarily via subterfuge. For instance, calling into a place of business pretending to be tech support, on the odds that eventually he will reach someone who has a tech support issue and will volunteer password info, etc.
Just Ask. The most direct method is to simply come out and ask a person for their social security number. Provided that it's being requested in the context of establishing a person's identity, many people are conditioned to giving up their SSN quite readily. Make sure that whoever is asking for your SSN truly has a need to know, and determine first whether it's absolutely essential that you provide it.
Military ID Cards – The U.S. Armed Forces have begun issuing new cards which don't prominently display the number, but the older cards do show the member's SSN. Each branch of the military has been using the SSN as the GI's service number since the Vietnam War-era.
Online/Public Records – According to the U.S. Government Accounting Office (GAO), it is estimated that 85% of the largest and most populous counties in the U.S. which responded to a recent poll make available for bulk sale or online, records that may contain social security numbers.
← 10 Red Flags on a Nanny's Resume | 10 Variations of Names to Remember for Nanny Background Checks →
Run A Background Check Now
Fast, reliable & secure background checks are just a few clicks away.
Choose a plan & click to start your check at eNannySource.com