10 Different Types of Nanny Criminal Checks
March 25, 2012

| in Background Check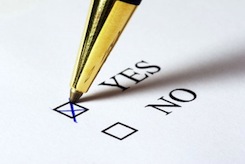 When it comes to checking the background of a potential nanny, a parent can never be too cautious. Entrusting the physical safety and emotional well-being of our children to a stranger is difficult in itself; doing so without being fully informed about that person's background and past, borders on irresponsible. Here are ten different types of criminal checks parents can run on a potential nanny.
Driving Record – If part of a nanny's employment agreement includes job-related driving, checking for moving violations and other problematic driving habits is imperative. Insurance policies covering a family car that the nanny will be using will also look at this information,
Child Abuse Registry – A growing number of states and local agencies are beginning to maintain a database of childcare workers with charges of neglect or physical abuse in their past. Searching these records can turn up charges that were dismissed or expunged, unlike traditional search methods.
U.S. Department of Justice Sex Offender Registry – Though all states maintain their own sex offender registry, the U.S. Department of Justice Sex Offender Registry holds information on every sex offender in the nation.
State Sex Offender Registry – For employers seeking a nanny who has lived within their home state all of their lives, the state sex offender registry is the quickest and easiest way to be certain that a prospective nanny has no sex-related convictions in their past.
Fingerprint Database – Unique fingerprint databases are an effective way of looking into a childcare provider's past; any information connected to their individual fingerprint will be housed in these databases.
Other Biometrics-Based Checks – DNA and other biometrics-based databases operate similarly to fingerprint databases. Expensive and often difficult for the civilian employer to access, these extensive databases house a great deal of information.
State Criminal Background – Running a basic state-level criminal check on a potential nanny is relatively quick and easy; these records can usually be obtained for a nominal fee and will return any criminal history and conviction within the state.
Federal Criminal Background – This check will identify any criminal record related to the breaking of federal laws, regardless of where the crime was committed, rather than information limited to a specific state. Since federal crimes can often be more serious in nature than state or local crimes, this is an important check to run.
County or Local Jurisdiction Records – Checking for local criminal activity is as simple as looking into county and local jurisdiction records; candidates that have lived and worked within a specific community for the majority of their adult lives are ideal for such a search.
Private Vendor Background Checks – While employers can run most criminal background themselves, private background check vendors often have access to records and information that the layperson might find difficult to obtain. In addition to returning more in-depth reports, a private vendor will also run several different types of checks for one price, making it much quicker and easier to sort through candidates.
It is up to each family to determine how thorough of a background check they desire to run on a nanny candidate. The cost of each report will need to be weighed against the possibility of uncovered unknown and potential vital information.
← 10 Signs Your Child Could Become President of the U.S. | 10 Red Flags on a Nanny's Resume →
Run A Background Check Now
Fast, reliable & secure background checks are just a few clicks away.
Choose a plan & click to start your check at eNannySource.com