10 Recent Crimes Committed by Nannies
March 15, 2012

| in Background Check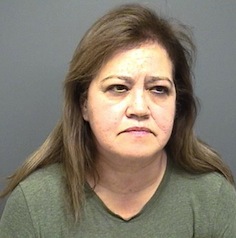 For parents that employ a nanny, few things are as upsetting as getting word that the person entrusted with the care and protection of their children has been arrested. Whether the crime is childcare-related or not, families invariably feel shocked and violated in the event of legal action being taken against their nanny. Here are ten nannies whose actions led to an arrest and the complete loss of their employers' trust.
Blanca Pineda – Greenwich, Connecticut nanny Blanca Pineda was arrested in February of 2012 for allegedly stealing $500 worth of flatware from her employers. She later returned to her place of work to return the items and admit to the theft; she was charged with sixth degree larceny and awaits her court appearance.
Anneliese Brucato – Long Island nanny Anneliese Brucato was arrested in February of 2011 for allegedly drugging a four-month-old infant with a generic Benadryl equivalent, despite a warning label clearly stating that the medication is not safe for children under the age of four years. The medication was administered in order to keep the infant asleep throughout the day; Brucato's actions were discovered when the baby's mother became worried about her restlessness and difficulty sleeping at night.
Stephanie Fox – When a Boston area nanny was arrested for writing cold checks to various people in her community, she had her charge in her care. The little girl was released into her parents' custody, who stated that she wasn't harmed. Upon her arrest, her employers also learned that she was caught by security cameras making purchases with credit cards stolen from local businesses in 2007.
Rachel Robison – Allegedly working with her employers, Arizona nanny Rachel Robison was arrested in March of 2011 and charged with sexual conduct with a minor and luring a minor for exploitation. The parents she worked for were also arrested on dozens of charges, including sexual assault, child molestation and furnishing obscene material to a minor.
Daniel Cortopassi – After advertising on Craigslist offering his services as a nanny, twenty-one-year-old Daniel Cortopassi was arrested on five counts of child pornography for having videos of children performing sexual acts in his possession. A search of his personal computer showed 278 pornographic videos involving children.
Beatrice Rios – Forty-six-year-old Queens, NY nanny Beatrice Rios was arrested in November of 2011 for endangering the welfare of a child, unlawful imprisonment and failure to exercise control of a minor after allegedly disappearing with her seventeen-month-old charge Annabelle. The child was returned to her parents in what was described as "good condition" by Manhattan police.
Colin Hotard – Boulder, Colorado nanny Colin Hotard was arrested in late 2010 after allegedly using her employer's credit card to make over $15,000 worth of unauthorized, personal purchases. According to the police report, Hotard used the card to purchase clothes, movie tickets and hair stylist appointments; she plead guilty and was sentenced to four years of probation, two years in a work release program and community service of 100 hours.
Lidia Zuradzka – Wheeling, Illinois nanny Lidia Zuradzka was arrested in June of 2011 for driving under the influence, leaving the scene of an accident and three counts of endangering the life of a child after a minor car accident. Three children were in her vehicle when the alcohol-fueled fender-bender occurred; Zuradska was also arrested in 2006 for criminal trespassing after breaking into a neighbor's home to steal a bottle of alcohol.
Louise Anne Perry – Truckee, California nanny Louise Anne Perry was arrested on Christmas Eve of 2010 after allegedly stealing a pair of diamond earrings worth $17,000 and various prescription drugs from her employer. She admitted to drinking and consuming the pills while she was the primary caregiver for a nine-month-old baby. The parents of the child apparently returned to find the nanny in the bathroom of their master suite, "totally out of it to the point of being unable to function."
Fernanda Bender-Puhl – After showing up to a local daycare to pick up a child formerly in her care, despite having been fired, a crime spree that included stealing checks from her employers and cashing forged checks worth $16,000 came to an abrupt halt. Police believe that her intentions for picking up the child may have been part of a kidnapping-for-ransom plot.
If you're debating over the necessity of running criminal background checks before hiring your nanny, this list of former nannies may reinforce your opinion of their value.
← 10 Signs Your New Nanny Lied to Get the Job | 10 Places We Shouldn't Mention Our Kids' Names →
Run A Background Check Now
Fast, reliable & secure background checks are just a few clicks away.
Choose a plan & click to start your check at eNannySource.com